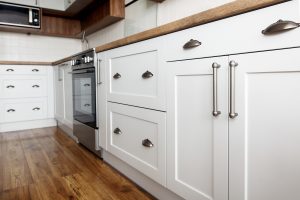 Cabinet Painting Tulsa OK
Have your kitchen cabinets seen better days? Would you like to update the look of your kitchen or bathroom? Do you want to get the look of a new kitchen remodel or bathroom remodel without the cost of one? If you'd like to update the look of your kitchen or bathroom without spending tens of thousands of dollars on all new cabinetry, give us a call today and speak with our contractor about a quote on cabinet refinishing from Tulsa Complete Painting.
Our friendly cabinet experts will breathe new life into your kitchen or bathroom by refurbishing and refinishing existing cabinets to make them like new. Whether you're in the mood for brightly colored kitchen cabinets, popular white kitchen cabinetry, or refinished wood stained kitchen cabinets our expert painters and cabinet pros can help.
Excellent Refinished Cabinetry
Save yourself the headache of refinishing those cabinets yourself. Proper cabinet refinishing takes hours of sanding and prep work before you get to the actual painting itself. When we're done with your cabinet painting or cabinet staining in Tulsa, you will be 100% satisfied and excited about the finished product.
Tulsa Complete Painting uses only the highest quality paints and stains, and we value a drug-free, safe working environment. We will work hard on your property as if it were our own, and will clean up after ourselves when the job is complete.
If you'd like to work with excellent local contractors who live and work in the Tulsa area, please give us a call today at 918-351-2555
We would love to help make your kitchen cabinets or bathroom cabinets like new. Give us a call today for professional cabinet refinishing services from the best painter in Oklahoma.
Thank you for being our customer!