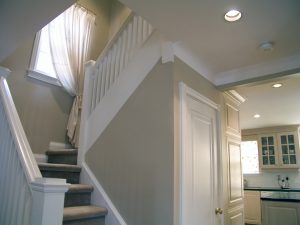 The Best House Painters in Tulsa OK
Your home is your castle, and at Tulsa Complete Painting we understand the value you place on your property. Tulsa Complete Painting are the best painters in the Oklahoma area. Our painting experts are painstakingly careful and take pride in their work. If you're looking to hire a local painting company staffed by employees and highly skilled craftsmen who will treat your property as if it were their own, please give us a call today at 918-351-2555
Whether you're in need of getting your living room painted, paint for your bedrooms, bathrooms, garage or laundry room, home office, exterior house painting, or painting for any other part of your residence or business, we can help you. We handle residential painting projects in Tulsa, Owasso, Sand Springs, Claremore, Collinsville, Broken Arrow, Jenks, Bixby, and the surrounding areas. We also offer full-service professional Commercial Painting services.
Interior Painter Broken Arrow, Sand Springs, Claremore
Trust your painting project to the best painter in Oklahoma. We will help you from start to finish with whatever you need, from changing colors, to enhancing the beauty of your property through our excellent painting services in Tulsa. Would you like glossy paint, semi-glossy paint, or flat paint for your interior home or office interior in Oklahoma? Would you like a fresh coat of paint that will last you for years to come?
Don't bother with doing the painting yourself. Free yourself from the hassle of having to clean paint brushes and deal with paint spills. Our pros can handle all of that messy work for you and will make sure your interior space is left painted well and spotlessly clean when we're done. All you'll have to worry about is enjoying your new paint job. We will leave your home, commercial building, or office space in great shape when we're doing with all the painting you'd like us to do for you.
We offer Free Quotes on all our projects. You may give us a call or fill out the Free Quote form on this website and one of our friendly painting professionals will get in touch with you soon.
Call 918-351-2555