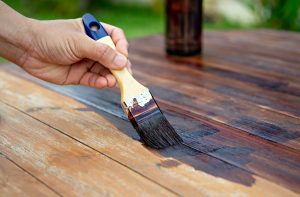 Staining & Sealing Services
When your wooden deck or wood fence ages, it will turn grey and begin to crack and warp. Constant exposure to the weather, the harmful effects of moisture, UV rays, temperature changes, not to mention insects and pests will take a toll on your fencing or decking over time.
If proper maintenance isn't performed on decks or fences, the lifespan is greatly reduced. Protect your property with proper care by hiring Tulsa Complete Painting to perform staining and sealing services for you.
Deck & Fence Staining
A proper staining from professional experts will breathe new life into your fence or deck and make it look like new again. Our stain experts have a variety of colors and options to choose from, and our application process will ensure you get a consistency of color and texture on your fence or deck.
Whether you're property is made from cedar, pine, cherry, redwood, or another material, we can work with it. We will provide you with enough color options, whether you'd like a lighter stain or a darker, richer looking wood, we can help.
Professional Sealing for Decks & Fences in Tulsa
In addition to staining your deck or fence, we will also seal it for you. A proper application of sealant will protect your property from moisture, deter pests, and protect against the harmful effects of UV light.
Sealing will keep the color your fence or deck from fading and increase the lifespan of your property for years to come.
Protect Fencing & Decking
If you'd like to protect your fence or deck with proper staining and sealing services, or if you're in need of house painting, epoxy flooring, cabinet refinishing, drywall repair or another professional service, please give our pros a call today at 918-351-2555