Epoxy Flooring Contractor Tulsa OK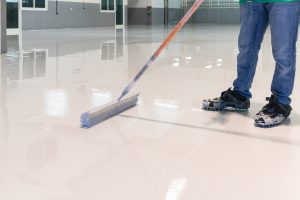 Epoxy Floor Application in Oklahoma
If you'd like to have a durable, attractive concrete floor that can stand up to major wear and tear and still clean up like a champ, let us speak with you about our epoxy flooring coating applied by our professionals contractors.
Whether you're looking at application on a garage floor, hospital flooring, warehouse floors, car dealership, church, or any other type of building in Tulsa, whether commercial epoxy flooring or industrial epoxy flooring, we would love to help you.
Superb Epoxy Flooring Tulsa OK
Epoxy floor coating can be applied in a variety of colors and styles. In essence, an epoxy floor is a stained concrete floor with a resin coating that is highly durable and can last nearly a lifetime and can be as beautiful as it is durable.
The professional craftsmen at Tulsa Complete Painting are highly skilled epoxy flooring specialists. We can craft flooring for you that you can be proud of regardless of the application. Whether you'd like metallic epoxy floors, glossy epoxy floors, colored epoxy flooring, epoxy flooring for high-traffic garages, epoxy flooring for industrial warehouses in Tulsa, or commercial epoxy flooring we would love to speak with you. We offer free quotes for all our epoxy flooring applications, and all our pricing is 100% up front. Give us a call at 918-351-2555
We would love to speak with you about epoxy flooring in Tulsa today. We serve customers in Tulsa, Broken Arrow, Sand Springs, Claremore, Collinsville, Owasso, Glenpool, and the surrounding areas. Whether you're in Bixby, Jenks, or anywhere in the greater Tulsa area, we would love to install new epoxy flooring for you today.
Epoxy Floor Experts in Tulsa
Please let us know how we can help you either by calling or filling out the Free Quote form on this website.
We are epoxy flooring specialists - thank you for being our customer!